Device Hub Client Updates
Device Hub Client Updates
Updated by Colin
Device App 1.8.14 and Device Service 2.3.18
Network Diagnostic Tools
The Device Hub Server and Device App will now allow full network diagnostics from a simple GUI which can be used to determine if a network problem exists locally or externally. The test comprises of DNS tests, network pinging, HTTP requests, traceroutes, and download speed testing.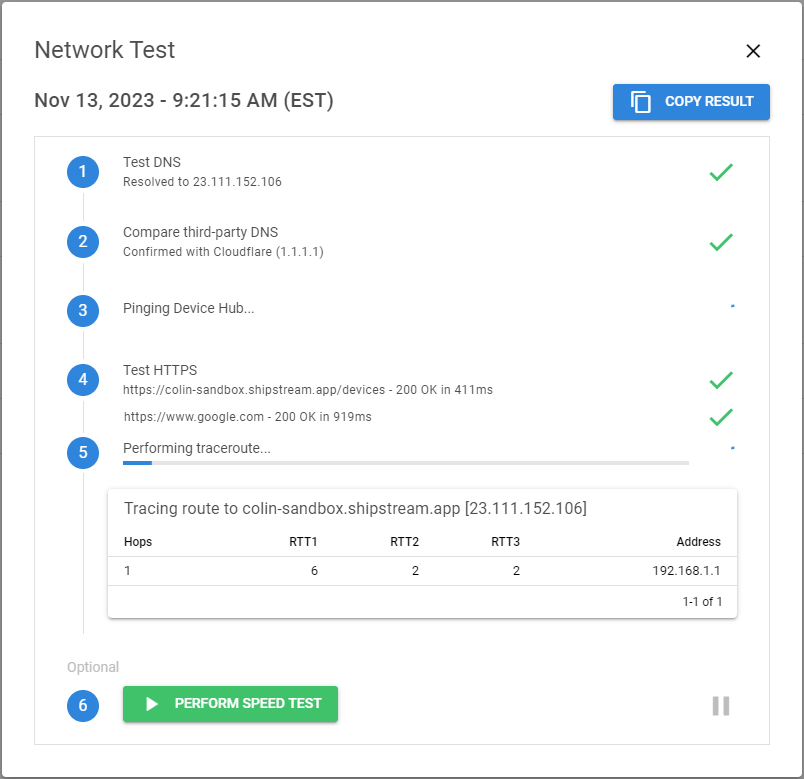 Improved PDF printing
The upgraded PDF printing software that prints barcodes, labels and packing slips will now produce higher quality prints. This should improve barcode scannability and overall print quality.
Other Improvements
Respond to print requests as soon as they are validated so WMS GUI may become responsive faster
Increase max file size to 100MB
Improved logging of job timing and status
Fixed some rotated documents were not printed correctly after the first page
Display company name in footer of Device App and Device Service Web GUI when configured
Reduce background printer list polling on Device Service and Device App
Fix automatic scale configuration for USB scales
Reduced serial scale automatic scan time
Update Impact:
These upgrades must be deployed via the Device Hub or the Device App. See
Upgrading
for more information.