Packing Slip Design
This article describes the configuration options for ShipStream's automatically generated Packing Slips. Packing Slips are always generated at the time they are downloaded or printed so you can update the configuration and re-download the Packing Slip any time to see the new result.
Navigate to System > Configuration > Packing Slip Design and choose the correct configuration scope.
Layout/Printing
This section of the configuration can be customized at the Merchant and Brand scope.
The Default Greeting will be replaced by the Custom Greeting field if it is specified on the order, so that each order can have a unique greeting in addition to default greeting above or below.
The example Packing Slip below was generated with the following configuration:
Font Family

Helvetica/Arial (Standard)

Display Order ID in Header

Order Ref # or Order #

Header Logo

Top Greeting

Top Greeting Normal

<b>Top Greeting Bold

<i>Top Greeting Italic

Default Greeting

Default Greeting

Bottom Greeting

Bottom Greeting

Paper Size

Letter (8.5"x11")

Design

Square Logo

Header Text Position

Right

Header Text

Header Text Line 1

Header Text Line 2

Header Text Line 3

Header Text Line 4

Barcode Position

Right

Display Country in Shipping Address

No

Display Telephone in Shipping Address

No

Display Packing Solutions

Yes

Display SKUs

Yes
Footer
At the Global and Warehouse scope you can customize the footer with features that may be useful operationally.
The example Packing Slip below was generated with the following configuration:
| | |
| --- | --- |
| Shipment ID Barcode | Yes |
| External ID Barcode | Yes (replaces Shipment ID Barcode) |
| Alphabetic Index | Yes |
| Batch ID Barcode | Yes |
Example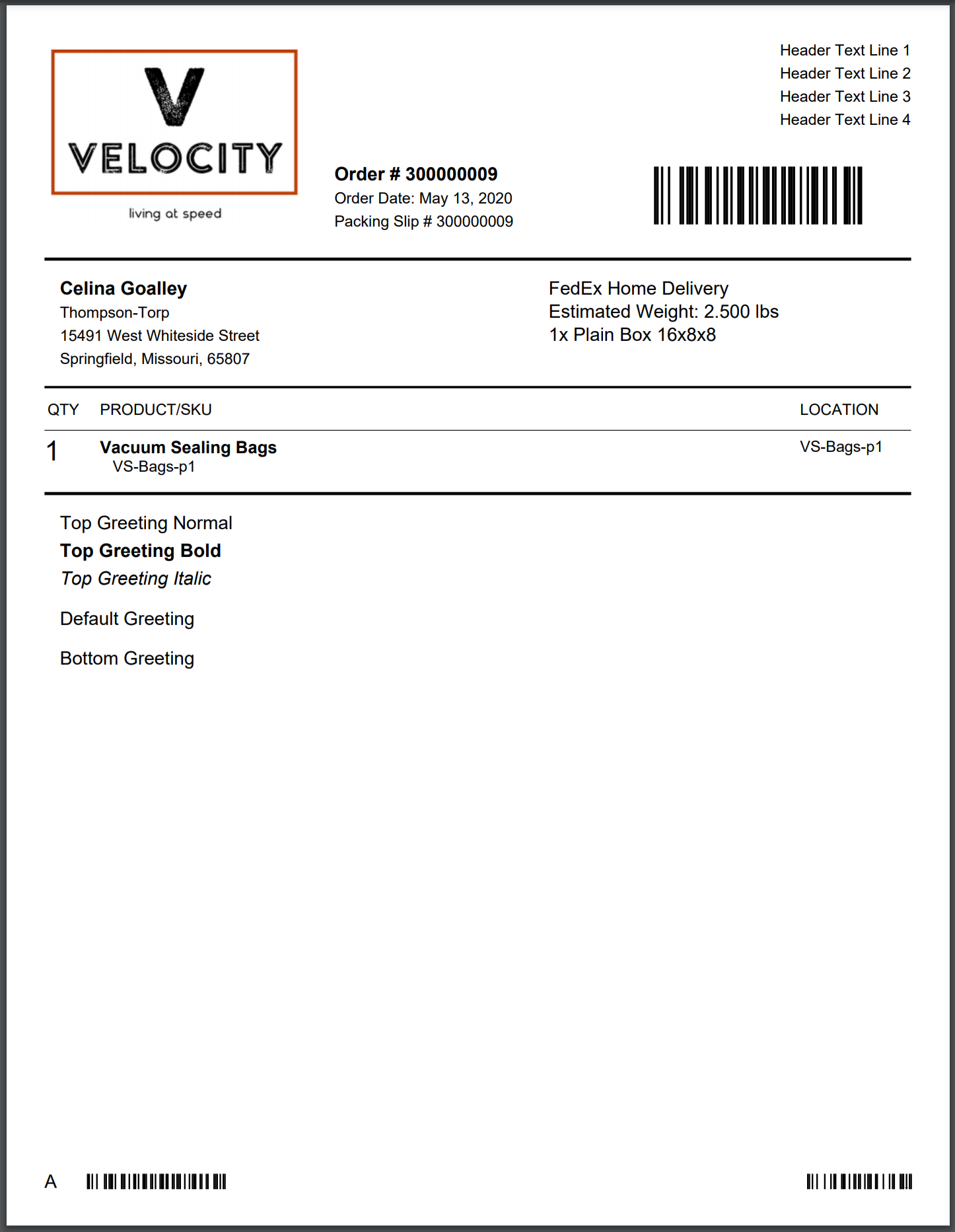 ---
---